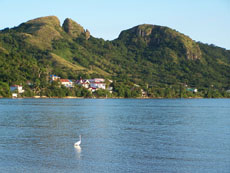 Getting to Providencia Island
Please be sure to book flights between San Andres and Providencia well in advance (ideally more than 2 months in advance) - if you wait until the last minute you will find availability to be limited.
Set on a hillside overlooking the pristine Caribbean Sea, Deep Blue is a 10 minute taxi ride from the small airport in Providencia.
To reach the peaceful oasis of Providencia Island, fly first to our neighbouring Colombian island, which is called San Andres. San Andres Island is a popular and busy tourist destination, and some of our guests choose to spend time there before visiting us in the more tranquil Providencia.
Copa, Avianca and Lan have direct flights to San Andres Island from domestic destinations in Colombia such as Bogota, Cali, Cartagena, Medellin and Pereira. In addition, Copa offers flights from Panama City to San Andres Island. These flights can be booked either directly with the airline, or with your local travel agent, or alternatively through well known online travel websites such as Travelocity.com, Expedia.com, Orbitz.com, Lastminute.com and Despegar.com. For more extensive information about flights to San Andres, read our guide by clicking here.
To travel onwards from San Andres to Providencia, the airlines Satena and Searca offer short 15 minute flights that should be booked in advance by contacting Satena. Satena's flights can be booked online but their website is in Spanish - if you download Google Chrome, it offers an excellent page by page translation. Once you have selected your flight times, select the option "Reservar sin Cuenta" (the "Reservar con mi Cuenta" option will take you to Satena's log in page). On the page where you input card details, pay attention to the expiry date format (year followed by month), and the final box marked "cuotas/shares" select the top option, which is normally marked as 1 (the other options might attempt to defer payment to a later month). You might find it easier to book these flights via a travel agency agency - if you check on kayak.com you might find some online international travel agencies offering Satena flights or you could try Providencia Travel (tel: 0057 8 5128596, gerencia@providenciatravel.com), who are based on San Andres Island. Please be sure to book these flights well in advance (ideally more than 2 months in advance) - if you wait until the last minute you will find availability to be limited.
If you have good sea legs, it is also possible to travel between San Andres and Providencia (and vice versa) by fast catamaran. The boat, El Sensation or El Splendor, operated by the company Conocemos Navegando, makes the 3 hour journey between San Andres and Providencia every Monday, Wednesday, Thursday, Friday and Sunday. You can also book this service via Directferries.com It's a five minute taxi journey from the pier in Providencia to the hotel.
Travel insurance is recommended, just in case bad weather leads to travel disruptions.